Founded in 1996 in L'Aquila with the name Elettronica Aquilana Sas, Hi-Tech Electronics is in essence an active company in the field of industrial electronics and telecommunications.
The main activities, aimed at the development of pre-series prototypes and the production of electronic material, originally addressed commercial and military market, with particular attention to the space sector, and took place on a surface of about 400 square meters in a local site in the district of Boschetto, L'Aquila.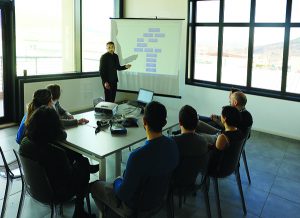 In 2005 the company, transformed over time into a limited company under the name of Hi-Tech Elettronica, moved into the former Italtel area, entering a 1000sqm site where the activities were mainly concentrated in three class 2 cleanrooms (10,000 Fed Std 209E) and a class 3 Controlled Area (100,000 Fed Std 209E).
The company consisted of about 65 specialized and qualified technicians, 30 of which dedicated to the in-house assembly and testing activities and 35 decentralized in off-load modality at the offices of the first official Alcatel Alenia Space – LABEN – MBDA.
In 2016 the Hi-Tech Elettronica company, which became an ESA qualified company and became part of the official suppliers of Thales Alenia Space, acquires a new plant in Via Saragat in the Pile Industrial Center. Today, Hi-Tech Elettronica s.r.l. is an innovative small business company and is an official supplier of Thales Alenia Space, operating in the field of manufacturing for space and military applications.
The fundamental skills that Hi-Tech Elettronica has acquired include assembly, electrical and functional testing, devices for flight equipment, a harness department dedicated to space and military cabling, coaxial cables, thermocouples, wrapped elements in the category of inductors and transformers.
For more than twenty years it has developed such activities, in the new headquarters at the Pile Industrial Center in L'Aquila. As a sub-contractor it has participated in several space programs and in all the related production activities, in the preparation of materials up to the delivery and installation at customer's premises, mostly the biggest space agencies in the world like NASA and ESA, but also national space agencies like ASI. This was made possible also by a strong and stable collaboration with the important Prime Contractors operating in the territory of L'Aquila, like Thales Alenia Space. The reference market is predominantly national, but in recent years, successful international collaborations have been launched.
The "space" segment represents about 90% of the operations portfolio and has particular characteristics as a niche sector that requires highly specialized skills.