Design of an electrical circuit using Aerosol Jet Printing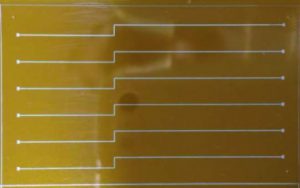 Aerosol printing enables high-resolution deposition of nanoscale suspensions using aerodynamic focusing. Hi-Tech Elettronica has recently started an industrial research and development activity for the application of additive technology in the manufacture of space equipment components, identifying two lines of investments. The applicability of AJP technology has been successfully tested for the realization of a two-layered polyimide / silver electronic circuit, composed of electrical connections and pads.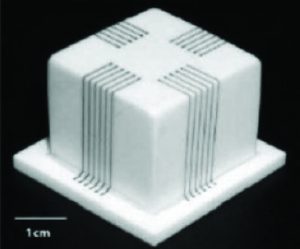 The insulating layer is made by depositing a polyimidebased ink. The connections and pads are made of silver. The ability of aerosol jet technology allows you to print complex geometries even in 3D using a wide range of nanoparticular conductive inks (gold, silver, platinum, copper, carbon, etc.).
The advantage of printing with aerosol jet technology also lies in the possibility of printing conductive lines in trenches and channels. The following are examples of lines printed on high trench 500um and printing lines on an alumina cube. The substrate also might therefore be non-planar.